News
Brewery Martens in Bocholt unveils Limburg's largest mural for its 265th anniversary
Image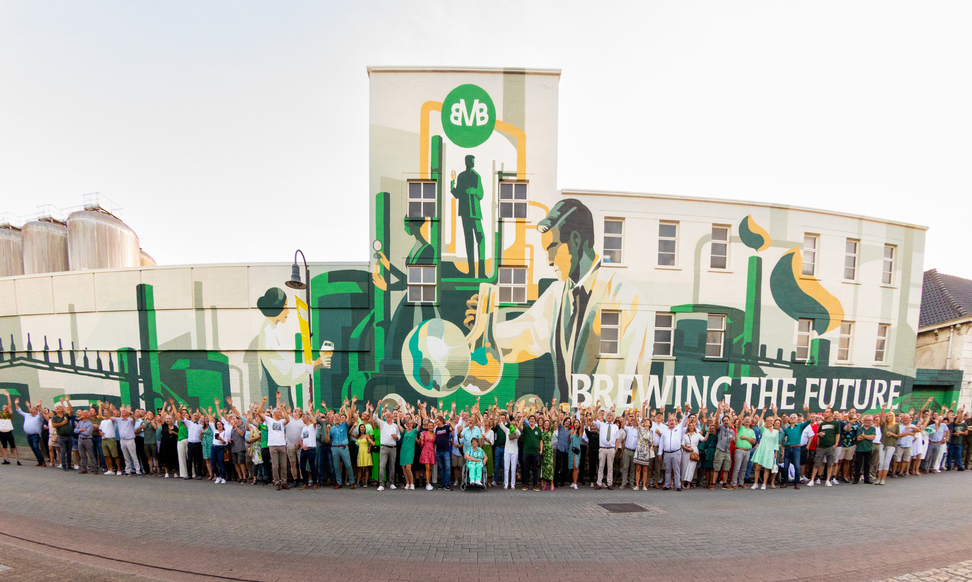 Nine generations have brewed beer here, grounded in passion, tradition and craftsmanship. Brewery Martens has been active in Bocholt since 1758. "Building and brewing: with this history, we passionately continue to shape our future," says Jan Martens.
Largest and oldest family business in Limburg
Brewery Martens, the largest and oldest family business in Limburg, is celebrating its 265th birthday. A party was held in a large tent decorated with mirrors and stained glass ('Spiegelzelt') and all of Bocholt was welcome. On the facade of the brewery on Dorpsstraat, the artist collective Treepack created a 600 m² painting for the occasion. 

"The mural is part of Brewery Martens' rebranding campaign," begins Jan Martens. The typical Martens green and white are central to the mural. The painted artwork depicts Brewery Martens in a timeless setting and showcases its research team. "A modern brewery that produces over 4 million hectolitres of high-quality beer per year. Our goal is to continuously improve and optimise brewing and production processes, with a focus on sustainability and environmental awareness," explains Jan Martens. 
The floating golden bubbles refer to the 'best in class' brewing method that uses a minimum amount of water. "Our top brands, i.e. 'private brands', the well-known seasonal beer and all premium specialities are of an international standard. 'Brewing The Future' indicates that we are ready for the future," says Bob Martens. 
Brewery Martens strives to continuously improve and optimise the brewing and production processes. "With a focus on sustainability and the environment. Today we use 1.2 litres of water to brew 1 litre of beer. This makes us the best in the world," says Jan Martens. 
The Martens range consists of various beers. "Brewed with respect for generations of tradition and with a perfect balance of flavours to quench thirst. Whether to toast with friends, celebrate something unique, or just for the sake of being sociable. The brewery, known worldwide for its beer, is letting all of Bocholt join in the celebration," said Mayor Stijn Van Baelen. 
Tout Bien
In addition to Martens' pilsner they also brew the famous Sezoens beers, and the eponymous Martens Pils has been revamped. For those who didn't know: the pilsner by YouTuber Average Rob is also brewed in Bocholt. 
Following the inauguration of the mural, there were free drinks and the 'Spiegelzelt' opened its doors for the ten-day 'Spiegelfest'. Tomorrow, on Sunday, you can visit the tent as part of Open Monuments Day. Other weekdays also feature various activities, with DJs, performances and beats.