Image

Our customised solutions
With our solution provider model, we help you put your product together. Explore the wide range of services we offer our partners here.
Our customised solutions
With our solution provider model, we are here to assist you in customizing your product. Discover  the wide range of services we offer to our partners.

MARTENS DATA ANALYTICS (MDA)
Martens Data Analytics keeps up to date with the newest product and packaging innovations and researches the latest market and consumer trends.  We analyse this data and provide insights tailored to the specific needs of our clients. Our core competency at MDA lies in identifying and filling portfolio gaps to build a sustainable and high-quality portfolio together. Our common goal is to increase the client's market share and establish a long-term, value-driven partnership. 

MARTENS INNOVATION CENTER (MIC)
Martens Innovation Centre is our research centre for product development. Our experts can translate your request into understandable and quantifiable models with the desired product specifications. MIC engages in an iterative development process with the client to deliver the best possible product. With our unique brewery, the development and production possibilities are virtually endless.  
Martens Packaging Solutions
We offer a wide range of packaging options including glass, cans, kegs and PET applications. Here, too, we are constantly searching for the most sustainable solutions. For instance, our PET bottles are fully recyclable. Our latest innovation, Nature Multi Pack, is ecological packaging in which bottles are connected without the need for secondary wrapping. 
GLASS
Available in:
25cl, 33cl, 50cl
CANS
Available in:
33cl, 50cl
KEGS
Available in:
20l, 30l, 50l
PET
Available in:
33cl, 50cl, 66cl, 1l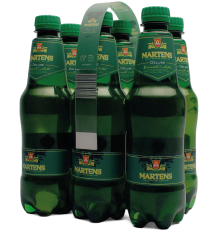 MARTENS BREWING CAPABILITIES
Our unique brewery enables us to produce a wide array of high-quality end products in the most sustainable way possible. This allows us to brew beer with less wastage of water, energy, raw and auxiliary materials, and to keep our ecological footprint as low as possible. Furthermore, we are committed to delivering the best quality and consistency, thus upholding Belgian quality standards.  

MARTENS CUSTOMER CARE (MCC)
The customer is our focus. Our commitment is to deliver your products on time and in full with the corresponding logistical support. Our dedicated account managers are available 24/7 to provide support and ensure that our collaboration results in maximum customer satisfaction.